ABOUT US
OUR STORY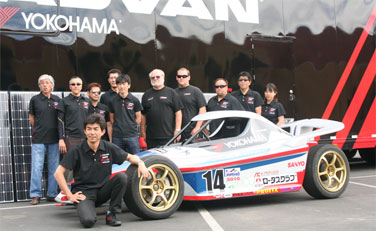 TrackSide Performance, LLC is entering its 22nd year as the exclusive partner for Yokohama Tire Corporations extensive North American motorsports programs (including: USA, Canada and Mexico).
TrackSide Performance, LLC is a full service race/exhibit company specializing in motorsports affiliated events. TrackSide Performance LLC offers catering to the needs of corporations, pro/club drivers and event coordinators. Trackside Performance, LLC also offers 50 years combined experience and is capable of coordinating over 120 events annually.
Based in its 6,000 square foot facility in Southern California, TrackSide Performance operates 5 – 48' to 50' transporters, boxvan, fleet of trailers and chase vehicles.
TrackSide Performance LLC is a full service tire support center. We also offer mobile services.
Trackside Performance is heavily involved in the motor sports of American Le Mans, drifting, karting, NASA, POC, PCA, Off-Road, GT3, GT2 and SCCA and works with many race programs including Dessert Assassins, GMG Motorsports, The Speed Gallery, ALMS, Kartek Off-Road Inc, 911 Design and Yokohama.  We also offer contingency programs in BITD, MORE, NASA, POC, SCORE, SNORE and PCA.  If your club is not listed, feel free to contact us to find out the eligibility requirements.
PERSONNEL PROFILES
CHEECH YAMAUCHI: Cheech was hired in 1982 by Yokohama to do market research and see if the A001R could have application in racing in the US.  In 1983, Cheech, as the sole employee of Orient Speed introduced the tire into the US market with Orient Speed being the exclusive distributor.  The tire was brought in, in two sizes and won both Showroom stock and Solo II in that same year.  So with Cheech's efforts and those two tires, that was the beginning of Yokohama's racing heritage in the US, as they say the rest is history. Cheech was hired in 1986 by YRC as an independent consultant, a relationship that continues to this day.  Along the way Cheech has been, instrumental in numerous IMSA Championships with Ferrari, Nissan, and Dodge. Daytona 24 hour overall wins with Ferrari and Nissan and class wins with BMW and Mazda.  Leman 24hour wins with Honda and Porsche.  Cheech's rich racing history, and love of racing has made him an integral part of the racing community. Currently, Cheech is the co owner of TrackSide Performance LLC, which is still the exclusive race tire distributor for Yokohama Tire in North America.  Though Cheech has probably spent more of his lifetime at the race track then at home, he still wouldn't change thing.
VIC CURL: Vic has an industrial arts degree and taught school at both the high school and community college level.  It was while teaching that he attended his first off road race or as Vic says, I made the mistake of going to the Mint 400 in 1969, just to "check it out", and got hooked on off road racing for life!  While he was teaching auto shop in Oregon in the early 70's when He was recruited by American Motors and Jeep Corporation. While working for Jeep he made a pitch to retrofit an old mobile training school, a semi truck, to support their off road efforts in Score. We believe that was first ever "semi" that went to Mexico in support of off road racing. While working for Jeep Vic worked with many of Icons of Off Road, Malcolm Smith, Rodger Mears, JM Bragg, the Randall family, Don Adams,  and host of others. He also managed the west coast branch of Renault Jeep Sport, which supported road racing as well as their off road racing programs.  In that 70's era AMC/JEEP also created the Celebrity Jeep Races that were put on by Mickey Thompson. After essentially running the Jeep race support into the late 80's Vic then went to work for Cal Well's, as manager of "Precision Service Racing Group" which was the exclusive race tire distributor for Yokohama  Tire North America. In that era, Yokohama participated in the Mickey Thompson Stadium Series, and SCORE, sponsoring many race winning drivers such as Ivan Stewart, Rodger Mears, Rod Millen, and many others.  Currently, Vic is the co owner of TrackSide Performance LLC, which is still the exclusive race tire distributor for Yokohama Tire in North America.  In all the years of working in the racing industry, win, lose, or draw, Vic says it's been the people and friendships as well as the racing that has kept it interesting. Vic considers himself very fortunate to be able to work in an industry that he is so passionate about.
GINA WITTER: Gina has a Bachelor of Science in Business, while in college she started working for Yokohama Tires as an intern. Seeing how Yokohama Motorsports was growing, she quickly realized that she needed to be in the racing field, and she means literally in the field. She transferred from Yokohama Tire Corporation and went to work for Vic Curl at "Precision Service Racing Group". She will tell you it was the best opportunity of her life to be able to travel and learn about all the different levels of racing. Her passion for racing is obvious and she says she never grows tired of any part of the business. Of course she will also tell you she was six when she started working for Yokohama Tires 23 years ago! During the past 23 years, Gina has worked in many different positions from inventory and sales at the track, to her current position as the CFO of TrackSide Performance.
BOB ROOT: Bob has been in the Aftermarket Industry for over 15 years working at all levels of the industry. In 1996, he started as an entry level automotive tech at Saleen Performance Inc. in Irvine, Ca. After six months on the production line, Bob was moved into a Lead tech position responsible for all aspects of the specialty car builds. By 1998, he moved to the aftermarket sales division and was responsible for sales, customer service, and technical calls for both retail and wholesale customers. In 2000, he was promoted to Aftermarket Sales Manager over seeing aftermarket sales and warehouse day to day operations. In 2008, Bob joined Trackside Performance as an inventory control/accounting rep. During the past 2 years, he has moved into the role of Director of Operations overseeing Trackside's daily activities.